Our Team – a close knit team of three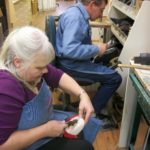 Erhard Marenbach
Born as the son of a master shoemaker in Germany and a mother who was a foot nurse – he grew up around shoes and foot problems.
Erhard started his apprenticeship as orthopedic shoemaker in 1978. As he was interested in the medical part of the orthopedic profession he took his apprenticeship not with his parents, but under a "Meister"  Orthopedic shoemaker. After 7 years of continuous learning as required to attempt the "Meister" certification  Erhard passed the exam as a master orthopedic shoemaker with the German "Meisterbrief" in 1986. The highest certificate available in Europe  in his pocket.
He worked for years with an orthopedic surgeon and conferred with him for the best options for his patients. A great opportunity for Erhard to challenge himself everyday under the watchful eye of this surgeon.
In 1992  Erhard took over his parents business and developed it further into the orthopedic field.
1999 he took over this business in Kelowna. Successfully growing it into it's current facility of 2000+ sf.
He also integrated a shoe store into the business where people can buy comfortable and fashionable shoes and sandals, which mostly can be fitted with orthotics.
With great pride does he manufacture custom made orthotics and custom orthopedic shoes and braces.
Erhard loves to help people to stay mobile and lead active lives. One of the greatest rewards in his profession is the appreciation by patients who are back on their feet after life threw them a lemon.
   Iris Marenbach 
She does most of the Orthopedic Modifications to Shoes and the shoe repair . Further she assists Erhard in the manufacturing process of orthopedic shoes and orthotics.
Iris started her apprenticeship in 1979. As an orthopedic shoemaker she passed the test for the  journeyman certification in Germany. Due to some outside influences she continued after this as a shoemaker and passed her "Meister" shoemaker exam in 1985. During Master school she met Erhard and they are one of very few couples, where both join the love to this profession.
Iris started her own business in 1988 already in Germany, but closed the store to join her husband as they took over his family business. She is working with her husband ever since.
  Nora H.
Nora is our front desk lady. She has joined our company in 2000 and her main focus is on customer service in front. She is the one helping you to choose the right pair of shoes, answers most your questions and does all stitching/ miscellaneous work.
During the many years she also learned to love the work with leather and the challenge each unique repair job brings. Working with people, especially the elderly and our patients gives her great joy.
She sells shoes and looks for a good fit for each person. Nora does all the small changes to velcro and straps which can make shoes more comfortable as well. She does stitching jobs on shoes.