Custom made Orthopedic Shoes or Lower Limb Braces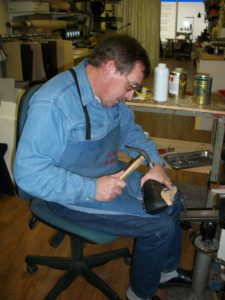 Erhard's Orthopedics is one of the few places in Canada to manufacture custom made Orthopedic Shoes for patients with severe foot issues.
Custom made orthopedic shoes are often the only way to achieve mobility for severe foot deformities or injuries. They are a lifeline for many. Without these shoes those patients have no way to get around.
Erhard makes foot lasts ( the "form" to pull the shoes over) from scratch. They are carved out of a piece of wood which is an art of itself. The uppers are custom designed, so is every other part of the orthopedic shoes. Orthopedic Shoes are very labour intensive and can easily reach $ 2000 or more in price.
Erhard Marenbach as a German trained " Master" Orthopedic Shoemaker ( Pedorthist) has trained several apprentices in Germany to produce custom made orthopedic shoes. It is an art as you have to have medical knowledge and years and years of training to know the right way to deal with all the different challenges severely deformed feet can throw at you.
The advantage of these shoes is that they are designed to substitute for lost functions in a foot, i.e. example after amputations. They may be necessary if someone has diabetic feet, severe arthritis, accidents or birth defects…
Today we are able to provide a much nicer look to these shoes than 30 years ago, but please do not expect wonders. These shoes are rarely a fashion statement as they designed for function more than for looks.
A great solution for some patients could be custom made orthopedic inserts. These are placed into wider shoes of shelf.  These will be a little cheaper than custom made orthopedic shoes, but offer more versatility as you can place them in different shoes.
Depending of the patients needs custom made carbon fibre braces maybe another option to help a person getting around easier. These braces are light weight and fit in even more shoes.
Individually made lasts required in either these described techniques. Erhard will be the one to determine which solutions may be an option per individual patient. We are open to confer with your physician.
You will need a consultation to discuss these options. You may expect several month for the work to be completed.